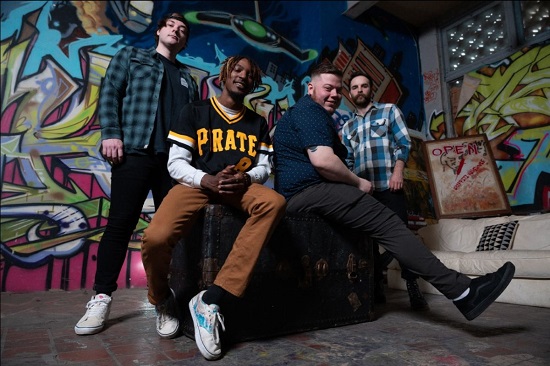 Baltimore-based quartet Cherie Amour releases their new single and video "Letting Go", which will appear on their new album Spiritual Ascension due out November 4th on Equal Vision Records. You can pre-order and pre-save the album here.
"Letting Go" is Cherie Amour's third single of the year and serves as an impressive statement on the groups self described "nu-punk" sound, expertly combining elements of pop-punk, post-hardcore, RnB, hip hop and metal. Produced by Alan Day (Four Year Strong), the track is a tour de force of hard hitting production with a radio friendly veneer. Not content to rest on their alternative laurels, the band mixes in an undercurrent of  mainstream hip-hop and pop swagger that elevates the track into unique sonic territory. While "Letting Go" will appeal to a wide range of music lovers, it is anything but formulaic – instead, it serves as a reminder that Cherie Amour has a musical perspective totally their own. The accompanying music video (directed by Casey Reid) adds an engaging visual component that builds a dramatic narrative centered around vocalist Trey Miler. You can stream and watch "Letting Go" here.
Vocalist Trey Miller has this to say about the latest track:
"This was one of the first demos we did that I knew had to be on the album. When Ronnie and I were living together in Baltimore last year, he actually made the initial beat on Ableton and played it for me later that night while we were out on the balcony chiefing and I immediately got to writing. It was that point in the pandemic when I was getting really tired of not being able to go out dancing so I wrote the lyrics from the perspective of being inside one of my favorite bars in Baltimore called 'The Charles'. Me and one of my best friends would go there almost weekly."
The band will join In Her Own Words, Capstan and Shallow Pools on a month long North American tour starting November 18th. Full itinerary is below. Tickets and VIP go on sale Friday, September 9th at 9am EST. You can pre-order Spiritual Ascension vinyl and merchandise and pre-save the album here.

Cherie Amour is Trey Miller (vocals), Casey Reid (guitar), Brendan Willis (guitar) and Ronnie Sherman (drums).

Spiritual Ascension Tracklist