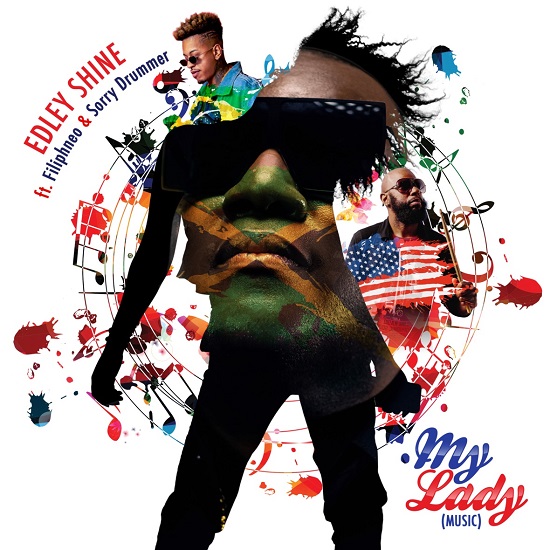 With a global presence and more than three decades of activity in an often tempermental industry, Edley Shine continues to deliver impactful music! This time around, the distinctive voiced entertainer and songwriter globetrotted to Colombia to shoot the colorful video for his buzzy "My Lady (Music)."
Filmed in Medellin immediately following Edley Shine's stadium performance at the sold-out Rose Festival, the new "My Lady (Music)" video brings this charming ode to music to life! Produced by (and featuring) the talented Brazilian musician Sorry Drummer and vocalist/producer Filiph Neo, Edley Shine once again incorporates South America into the mix. With Born Jamericans and Edley Shine's huge fanbase in the region, this move makes sense.


"This is one of the many international collaborations I have in the pipe line," says Edley Shine. "Last year I did "D.R. Lova" — a Latin record for my Spanish fans. Meanwhile, "My Lady (Music)" is for the lovers of Hip Hop in Brazil, which has a massive following.
Both Sorry Drummer and Filiph Neo have been creating and pushing authentic Hip Hop and Neo-soul, performing all over the world with music luminaries, such as Slum Village, Pete Rock, Raheem Devaughn and many others.
"Working with a legend like Edley Shine is a dream come true, as I am big fan of his catalogue," says Sorry Drummer. "His approach to patois over hip-hop is undeniably dope."
"My Lady (Music)" indisputably checks all the boxes to satisfy diverse music palates. It delightfully transcends music genre like Hip Hop, Reggae Dancehall and R&B without missing a beat! The video, which was directed by Digital Minds A.C., boasts authentic elements of Colombia, which further add to the song's already vibsey feel.

When music lovers around the world type in the name "Edley Shine" into a digital database, more than 30 years worth of music making will come up. Some will only know the growly voiced barritone deejay and rapper from the legendary group Born Jamericans, while others may very well recognize his signature vocals from flipping Billboard hits with DJ Buttah as a member of the Refix Kingz. Even if listeners just discovered Edley Shine's unique sound from his pandemic released EP "Based on Talent" in 2020, all who indulge understand the artist's mastered musical style can not be boxed into any one genre.
Continually blazing a global trail, Edley Shine headlined music festivals in Colombia and Dominican Republic this summer. While the entertainer blesses stages, "My Lady (Music)" has been gaining mainstream radio play in Brazil. "My Lady (Music)" is available across digital platforms via Shinealous Records/One RPM.
MY LADY – Digital Platforms:
https://music.edleyshine.com/MYLADY
MY LADY – Video Link:
https://youtu.be/dpNz2fAIJ-k
COLOMBIA FESTIVAL – Vlog:
https://youtube.com/shorts/lSdJXahxhw4?feature=share
FOLLOW EDLEY SHINE:
https://instagram.com/edleyshine_official?igshid=YmMyMTA2M2Y=