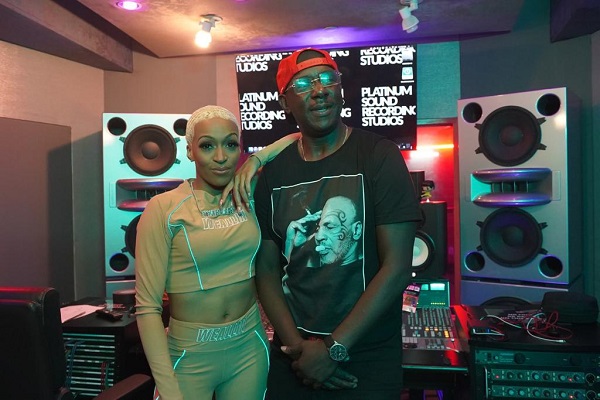 The legendary Reggae and Dancehall artist Mr Easy and Hip Hop "it girl" Kyah Baby are blazing the "High Grade! The red-hot new song and visual are out now across digital platforms. This unprecedented collabo sees the insanely diverse Mr Easy teaming up with Hip Hop Goddess Kyah Baby, whose unorthodox, spitfire lyrical delivery can body the best of them.
Just like its name, the new song is smoking! Produced by acclaimed music producer and film score composer Jerry Wonda, of Fugees fame, "High Grade" undeniably has radio, street and club anthem written all over it. And based on the incredible buzz the fiery song is amassing, including spins on Hot 97, Power 105.1 and WBLS 107.5 radio stations, as well as other mainstream and Caribbean driven platforms, this assessment is accurate. The video, which was directed by Adrian Tru Toscano, vividly captures the song's upbeat feel with loads of vibrant footage of Mr Easy and partner in rhyme Kyah Baby. With New York as the backdrop, including Brooklyn hot spots in New Lots and East New York, as well as Wonda's Platinum Studio in New York, New York, the video invokes urban authenticity.
Mr Easy's distinguished vocals cascade the song's infectious hook, while his deejayed (chanted) verses create a hard hitting artistic alter ego. The timeless artist shines on the up tempo song, proving why he is a dominant force across music spaces. When Mr Easy's robust sound is paired with Kyah Baby's distinct cadence and fierce flow, a hit song is born.
The well-respected music producer, Jerry Wonda, puts an eclectic stamp on the project. Spawning feel good vibrations, the song which boasts elements of Hip Hop, Dancehall and Reggae, is fit for radio, clubs and the streets. The fusion of patois in the recitable lyrics, multiple New York references and overall ode to one of the strongest forms of marijuana (legalized recently in New York for Adults 21+ recreational use and possession), "High Grade" connects with wide audiences.
Mr Easy has been blessing listeners with genre-defining songs for over 30 years. His international smash "Drive Me Crazy" leads a blazing trail of hit music, which has been commercially successful. The top act's unique voice and ability to seamlessly croon in a hybrid of English and patois has helped secure diverse listening audiences and music placements in TV and Film. His recent songs like "Praise Him," "Wish You Were Here," "Friends Fi Life" and "Stoplight," among others, have appealed to music lovers. Performances at Reggae Sumfest and Angela Yee Day has catapulted the esteemed artist to prime visibility in a quasi post-pandemic environment.
Kyah Baby, who hails from Queens, New York, has divine lyrical skills. Unquestionably, the super dope creative has mastered the art of freestyle rap. Kyah Baby's craft has landed her appearances on major platforms including "Sway's Universe" on Sirius/XM,  Funkmaster Flex on Hot 97 and the BET Cypher. The New Yorker's recent single "California Dreams" is garnering attention and love from fans. To top off the growing list of accolades, the lyrical Goddess has the eyes, ears and support of 50 cent.
HIGH GRADE SINGLE/VIDEO:
FOLLOW MR EASY (Music, Booking & Social):