The industry is abuzz, as sound system culture hits screens and streaming platforms with "V. Rocket International Sound System: A Sound System Dynasty." V. Rocket International is one of the UK's legendary reggae sound systems that has been going strong for nearly 60 years. This exhilarating 92-minute documentary from director and producer Marcus Hall, which tells the amazing story of how V. Rocket started from a 50-watt component system and became a world renowned, powerhouse sound system, premiered before a sold-out theater audience in Nottingham this month. The groundbreaking film is now available on Amazon Prime and other streaming platforms.
The Windrush era from 1948 – 1971 saw the arrival of scores of Jamaicans and other Caribbean populations in the UK, including Dougie and Imogen Robinson from Spanish Town, Jamaica in 1964. The unfortunate ban of Blacks in restaurants and venues spawned alternate entertainment known as "Blues Parties." Following suit, the Robinsons launched the V. Rocket sound from their living room in Nottingham in 1964, affectionately naming it after a sound back-a-yard from their youth. As fate had it, the Robinson's Jamaican culture had found a permanent home in the UK.
As the Jamaican diaspora grew increasingly, so did its vibrant influence, including sound system culture — the heartbeat of its #1 export, Reggae and Dancehall music. The hand-crafted V. Rocket International (built by Karl "Legs the Giant") has boldly carried the torch for sound system excellence in the UK since its start. Born from something small, V. Rocket International rose to prominence, securing its position as the UK's most powerful and feared sound. Whether billed as "clean and heavy, having the weight," "sweet" or "the English sound with yard style a foreign," the magnitude of V. Rocket's famed "top end" sound is saluted throughout the documentary.
V. Rocket International's slogan, "The only sound that goes to the moon," is well substantiated in this riveting film, which is co-produced by sound co-owner and manager Valerie "Lady V" Robinson and co-owner Paul "Parliament" Hall. The sound's profound legacy vividly unfolds in "V. Rocket International Sound System: A Sound System Dynasty" through interviews, archival video footage, audio recordings and pictures. Historical accounts from sound system giants and industry stalwarts from the UK and beyond seamlessly shape the V. Rocket story, amidst a backdrop of hard hitting and culturally significant V. Rocket specials and dub plates. Spotted in the documentary are Luv Injection, Saxon, Unity, Rory Stone Love, David Rodigan, Sky Juice of Metro Media and King Jammy's, among many others. The iconic King Jammy's declared that V. Rocket is the #1 sound in the world, alongside his!
"It was important to share the history of V. Rocket because it is a rich, unique, and intriguing story that had to be documented. As the great poet Oscar Wilde once said, 'Any fool can make history, but it takes a genius to write it'," says Marcus Hall.
"I would like people to embrace the idea of humble beginnings and to know what can be accomplished with hard work, commitment, dedication and passion," says Lady V regarding her hopes for audiences.
Interviews from V. Rocket International's expansive team, including an uber talented assortment of selectors, DJs, artists, craftsman, engineers and more, are seamlessly woven into the film, allowing viewers to re-live milestone moments from the sound system's long running history. Early on, Father Dougie realized that his team needed to be just as impactful as the physical sound. Over the years, many have left their indelible mark on the prized Nottingham machine, including Penny Irie, Lecturer, Scrapey Banton, Edgerton, Teacher Desi and others, honing their artistic crafts. Meanwhile, several dynamic selector/DJ duos helped revolutionize the sound, including co-owners and brothers Reuben "Beefy" Hall and Paul "Parliament" Hall and Leslie "Rankin" Robinson. Later, Belly (Parliament's son) and Val B joined the team, keeping the musical vibes blazing, along with the next generation of Keno, Fire Mark and DJ Marlz (son of Lady V and grandson of Father Dougie and Imogen).
"V. Rocket International Sound System: A Sound System Dynasty" culminates with discussion of the sound's epic three-month tour of Jamaica in 1987. An impressive amount of content surrounds the landmark tour, which is the very first time in history a UK sound shipped their entire sound system to Jamaica. From the countryside to inner cities, V. Rocket International's entire team performed for their expanding fan base, even recruiting local artists to join them.
"This was such a major important time for us," says Lady V graciously. "It feels great to be a prime example in sound system culture. We have put in a lot of work and have dedicated our lives to reggae music and the sound system. So, to achieve the status that we have, gives us a deep sense of pride."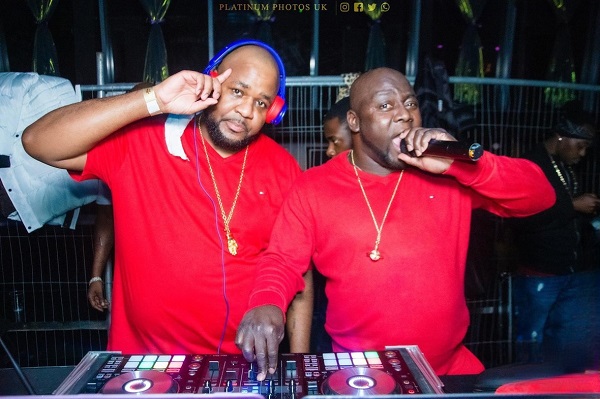 The tour's raw footage and visible colossal crowds revived an incredible, pivotal point in time for the V. Rocket sound system. Dub cutting, studio, producer and fan relationships were forged, solidifying the sound's presence in the Jamaican music and culture landscape and big leagues. Spearheaded by Parliament and Lady V, who officially joined the sound in the 80s, the move was heralded as an ace one. It expanded on Lady V's already burgeoning alliances with the Jamaican music fraternity. She eyed international acclaim for the sound, which was founded by her father.
"Being a female sound owner and curator is a unique position to be in. Sound system culture as we know it, has always been a male dominated entity. So, I feel honored to be respected in the space."
Further, the film zooms in on Lady V as "Queen of the Culture," highlighting her numerous roles with V. Rocket International and boss moves for the culture. As a manager, booking agent, promoter, event producer and more, Lady V has kept sound system culture thriving in the UK with signature brands including UK Cup Clash, Winner Takes All and UK Rumble, among others. Moreover, she has produced flagship concerts and tours in England and across Europe for leading Reggae and Dancehall artists and sound systems. Lady V is a dominant force, whose name and efforts are etched in the annals of Jamaican music and culture.
The future is bright for V. Rocket sound system, who currently has multiple teams performing locally and internationally, including Belly/Val B and Keno, Fire Mark and DJ Marlz. In addition to expanding to wider audiences, Lady V plans on re-entering the sound to the battlefield, aka, the clash arena. The V. Rocket International Sound System: A Sound System Dynasty film is a great step for documenting the sound's profound history, preserving sound system culture and expanding. With the film garnering praise from industry peers and audiences, along with increasing distribution by streaming platforms, it's clear the vibrant documentary is making an impact.
"It is important for all sound systems to document their history because if they don't tell their story, someone else will tell it for them," says Lady V. "Sound system culture is a fundamental part of Black history here in the UK that is intertwined with our Jamaican foundation. Documenting the history will serve as a point of reference for generations to come."
CREDITS: Flair Lindsey – ACCRAIM PR