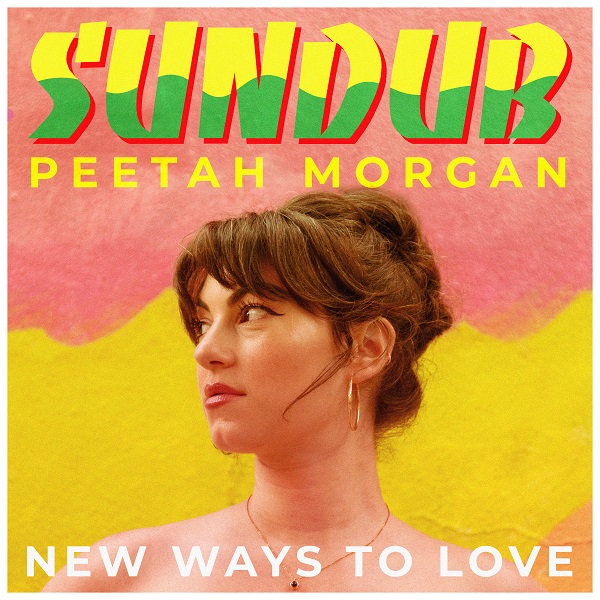 For the third single off of their upcoming album, Spirits Eat Music, Brooklyn-based SunDub brought in another Brooklyn-bred reggae icon, Peetah Morgan of GRAMMY-winning group Morgan Heritage, to join in the fun. Morgan and SunDub lead vocalist Joanna Teters riff off each other on the uplifting tune, which instructs listeners on how to move forward out of challenges. Listen to the single and check out the official video, filmed on location around Florida in September, at http://moremusic.at/NewWaysToLove.
The song's lyrics were originally written during the first weeks of COVID lockdowns in New York City in 2020. Joanna explains that "as the whole world was presented with a new reality of isolation and separation from their usual, everyday lives and routines, came this song about finding ways to feel grateful and centered, even when you are feeling constricted or challenged." This fits in with much of Spirits Eat Music, as the album takes an honest look at the band member's lives over the last few years, containing themes of profound loss, transformation, connection and love. Besides Peetah Morgan's guest vocal, the track also features a horn section of Greg LaPine (Mephiskapheles) on sax and Buford O'Sullivan (Easy Star All-Stars) on trombone, along with percussionist Larry McDonald (The Skatalites, Gil Scott Heron).
Spirits Eat Music was recorded at Lydgate Sound in Kauai, HI, in May 2021. Joanna Teters explains, "We got an invitation to record at Lydgate Sound, a special studio located on a remote cacao farm. The island and farm envelopes its visitors with lush nature and sweet sunshine, offering a beautiful kind of inspiration that can only come from being disconnected to our everyday lives and distractions." Ben Teters enthusiastically adds, "We enlisted Sidney Mills (Steel Pulse) to engineer and co-produce the album. We worked with Sidney on our first album Burden of Love – the opportunity to go deep for two weeks in the studio with him took the project to new heights."
SunDub is a testament to the power of inclusion, diversity, and unity; their music and community rallies around the concept that we are strongest when people of different backgrounds can work together to create positive change. These core values were first showcased on SunDub's debut album, Burden of Love (2019), which has amassed millions of streams since coming out. Anchored by a core quintet—Ben and Joanna, along with Finn Singer (guitar), Josh T Carter (bass), Eric "The General" Toussaint (vocals-keys)—the band is ready to breakthrough to even more fans worldwide with their sophomore album, showcasing the evolution of their sound over the past few years. Joanna Teters' commanding and soulfully smoky lead vocals blend seamlessly with the air-tight arrangements of the SunDub rhythm section. The result is a stand-out expression of reggae's classic undulating pulse and lush subterranean grooves, reinvented for listeners of all times and genres.
Tour Dates:
10/23 @ Bill's Bar & Lounge – Boston, MA
11/17 @ Deep Dive – Ithaca, NY (w/ Baked Shrimp)
11/20 @ Higher Ground – Burlington, VT
11/26 @ Colony – Woodstock, NY
Connect:
https://sundubmusic.com/
https://www.facebook.com/sundubmusic
https://www.instagram.com/sundubmusic/
https://www.tiktok.com/@sundubmusic
Tweets by sundub_music
https://www.youtube.com/c/sundubmusic