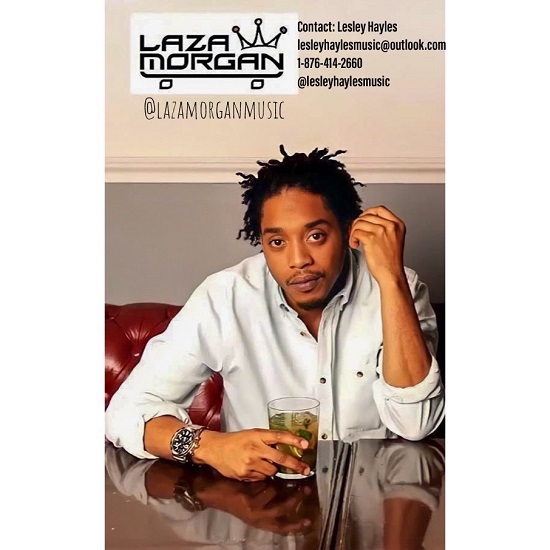 Laza Morgan
was born in Springfield, Massachusetts on December 13, 1976. One of several children of the late great Ras Denroy Morgan, and a sibling of Morgan Heritage,
Laza
grew up in Brooklyn with a strong Jamaican heritage under an authentic Rastafarian upbringing, so much so that a traditional high school did not suit this aspiring artiste.
Laza
therefore attended a trade school, as "no school" was never going to be an option given by his parents. He excelled in carpentry and even practices it throughout his lifetime.
Being born into a musical family, it was inevitable for
Laza
to become a superstar. His family held talent shows in New York since he was 8 years old and grew up with a studio in his backyard. However, it was around the age of 12 or 13 that he realized he really wanted to be an artiste.
Laza
started off rapping, DJ-ing, sampling and beatmaking due to the outside influences of being surrounded by the prominent Hip-Hop music scene of New York at the time. Of course, his father is his biggest influence to this day but it is evident in his style and delivery that there's a melting pot of go-to's for
Laza
, listing Super Cat, Buju Banton and Capleton, among others. At 13 years old, he even met Super Cat.
Alongside his brother, Shy-Poo, as a duo called
The Dreads
, their father took on the role of manager and brought them to Jamaica in 1992 where they performed on Reggae Sunsplash. The following year saw them getting signed to MCA Records and being featured on a Barrington Levy track in 1994. When their sister Miriam joined in, the Dancehall/Hip-Hop group
LMS
was formed, seeing major success while signed to VP Records and working with legendary producers like King Jammy's, Bobby Digital, Donovan Germain and Phillip "
Fatis
" Burrell.
In 2010 as a solo act and signed to Elektra Records, a subsidiary under Atlantic Records, hits like
"This Girl"
,
"One By One"
and "
All She Wants (Gone Tomorrow)
" gave
Laza
more international status but as a Pop artiste by 2013. This garnered a plethora of shows, allowing him to tour the world many times over. He then moved to California where he was introduced to skateboarding, signing major endorsement deals with several companies, motivating him to create his own skateboarding brand and even building a skate park in Port Morant, Jamaica.
It would seem as if he had taken a hiatus from music but
Laza
has been working tirelessly from behind the scenes to build Brand Jamaica in his own way. Plans are in motion to promote the hometown of his parents in the parish of St Thomas as a tourist destination.
Laza
has never stopped doing music, being originally a foundation Roots Reggae artiste and going back to that, fusing his Dancehall "sing-jay" style mixed with Hip-Hop lyricism during his re-introduction to his fans in 2022.
Since his father's passing in March 2022 and after the grieving process,
Laza
returned to the studio to record new music, hired a new manager, booking agent and PR in Lesley Hayles from Kingston, Jamaica and geared up for the expectation of many shows, tours, appearances, interviews and major deals to come, starting with a performance in August 2022 at Reggae Geel in Belgium, which include his siblings from Morgan Heritage on the show, as well as. As an independent artist under his own label,
Corner King Music
, he plans on releasing three singles and a mixtape. It's about to be a busy time for
Laza
and team as he'll also be launching his custom furniture business, filming company and cannabis brand in Jamaica.
Laza
, in the spirit of promoting St Thomas and already with a song out featuring Skillibeng since September 2021, would like to work with some of its other native artistes like Popcaan, Rytikal, Chronic Law and the talented upcoming acts. He wants to do some music with Tarrus Riley and Bushman as well.
Laza
's main aim now is simply bringing awareness to St. Thomas and bring Brand Jamaica to dominance on a global forefront while giving the masses consistently great music.
Welcome back, Laza Morgan!